by Valerie M. Brown, Realtor at Realty Edge
The Las Vegas real estate market is struggling to keep up with demand due to a lack of inventory. The shortage in inventory has led to higher prices in homes, and rentals, and led to many bidding wars leaving sellers happy and so many buyers without options.
One key question that's top of mind for homebuyers this year is: why is it so hard to find a house to buy? The truth is, we're in the ultimate sellers' market, so real estate is ultra-competitive for buyers right now. The number of buyers searching for a home greatly outweighs how many homes are available for sale. Why is that?
While low inventory in the housing market isn't new, it's a challenge that continues to grow over time. Here's a look at two reasons why today's housing supply is low and what that means for you.
The housing shortage in Las Vegas has been a major problem for the last couple of years. The demand for housing has been increasing but the supply is not keeping up. Las Vegas is one of the most popular destinations in the U.S and it's also one of the fastest growing cities in America with a population that is expected to grow by over 400,000 people by 2040. This rise in population has led to an increase in demand for housing but not enough homes are being built to keep up with this demand. This lack of inventory has led to a rise of prices and a decrease in affordability which has caused many people to be priced out of their neighborhoods or even out of Las Vegas altogether.
Many investors small and large are scooping up homes for rentals, airbnb spots, and short-term housing. This is a great way to create a source of income, but it is causing constraints in the housing market. There are not enough homes for everyone to own 5 or 10 properties. It's the monopoly effect, everyone wants to buy there are only so many spaces available. If you don't own, you pay.
Here are some of the reasons why we are in the situation we are in:
1. New Home Construction Fell Behind for Several Years
The graph below shows new home construction for single-family homes over the past five decades, including the long-term average for housing units completed. Builders exceeded that average during the housing bubble (shown in red on the graph). The result was an oversupply of homes on the market, so home values declined. That was one of the factors that led to the housing crash back in 2008.
Because of the overabundance of homes, the level of new home construction fell off. The Great Recession devastated world financial markets as well as the U.S. banking and real estate industries. It led to the catastrophic rate of home mortgage foreclosures across the country and caused millions of people to lose their life savings, their jobs, and their homes.
In many ways, the U.S. Home building industry took a very hard hit. Dozens of builders closed up shop or merged with or were acquired by other builders or firms. For the last 13 straight years, builders haven't been constructing enough homes to meet the historical average (as illustrated in green on the graph). That under building left us with a multi-year inventory deficit going into the pandemic.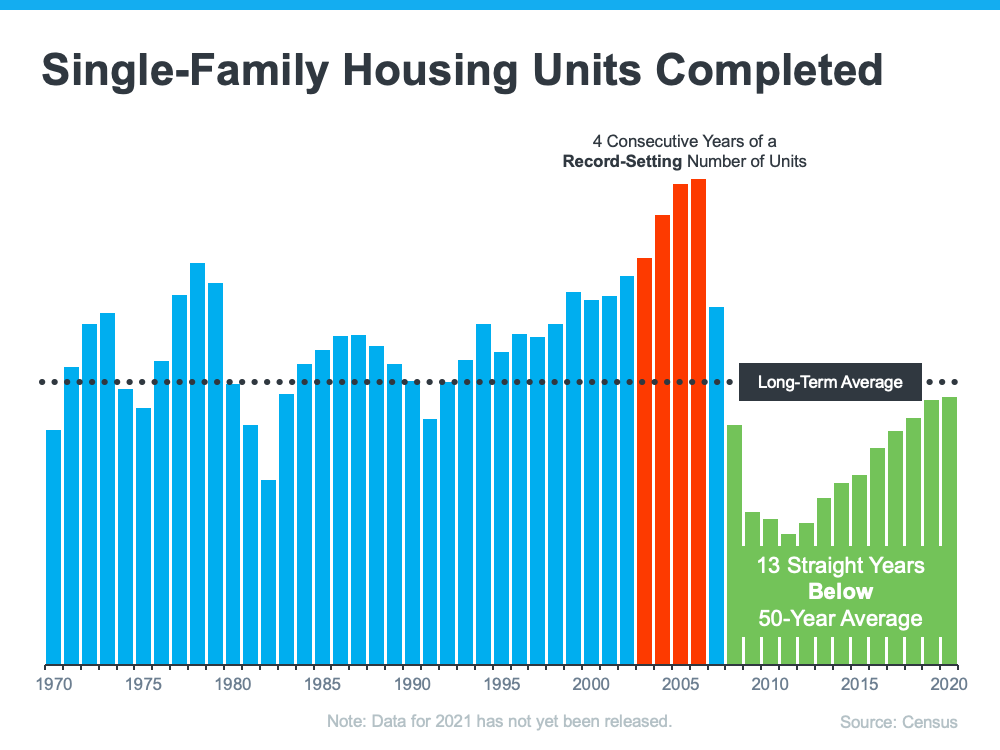 2. The Pandemic's Impact on the Housing Market
Then, when the pandemic hit, it fueled a renewed appreciation and focus on the meaning of home. Having a safe space to live, work, play, school, exercise and just breathe became even more important for Americans throughout the country. So, as mortgage rates dropped to at or below 3%, buyers eagerly entered the market looking to capitalize on those low rates to secure a home that would fulfill their changing needs. At the same time, sellers hesitated to put their houses on the market as concerns about the pandemic mounted. Link this together with the home building slow down and the result?
The number of homes available for sale dropped even further. A recent article from realtor.com explains:
"Last month, the number of home listings dropped 26.8% compared with the same time a year earlier. This meant there were about 177,000 fewer homes listed in what's already typically a slower month due to the holidays and colder weather. . . ."
2. Liquidity, Inflation & Hard Assets
Another factor affecting Real Estate Values would be the economy, or more clearly the health of the economy. Economy health is measured through various factors in a broad overview, things such as employment data, GDP, the price of goods, and manufacturing activity, etc. When the economy is sluggish, generally so is real estate. Important to note legislation and monetary policy can also play significant roles on property prices, supply and demand.
Historically low interest rates have presented the real estate industry with a significant surge in purchasing power. The federal reserve also created monetary policies due to the pandemic which increased liquidity in the overall economy to foster and create economic growth. This has led to many fears of inflation, although the Federal Reserve has state inflation would be transitory and now back track to say it may persist longer than anticipated.
With inflation people need to protect their money so it doesn't get eaten away with higher prices, Hard assets typically have helped people retain their money without values falling. This has also led to the increase in purchasing real estate, especially by hedge funds.
What Does All of This Mean for You?
For a buyer, low inventory has been a huge challenge. You want to find the home of your dreams, and so does everyone else. Interest rates are rising I might get priced out? How can you compete against hedge funds?
There is some good news. Experts are projecting more homes will soon become available thanks to sellers re-entering the market. Danielle Hale, Chief Economist at realtor.com, shares this hope, but offers perspective:
"We expect that we'll start to see a turnaround and inventory will stabilize and start to go up a little bit in 2022. . . . But that means we're looking at inventory levels of roughly half of what we saw before the pandemic. For buyers, the market is likely to continue to move fast. If you see a home you like, you want to jump on it right away."
Basically, inventory is still low, even though more homes are coming, but don't stop looking. Interest rates are going up which may stabilize home prices, but could limit your purchase power too. You shouldn't put your plans on hold because you're waiting for those additional houses to hit the market. Instead, stick with your search and persevere through today's low inventory, multiple offers and keep trying your best. You can find your next home if you have a strong agent on your side, are patient and laser focused.
Remember your goals and why finding a home is so important. Remember what you need out of a home and why this matters. Maybe you are permanently working from home or maybe you have a growing family or just a shifting dynamic with family moving in together. These things should be the driving force behind your search. Be clear about your priorities. Communicate your needs, your agent should be your trusted advisor and be able to offer you the greatest support as you navigate today's low housing supply to find the home of your dreams.
Bottom Line
If you're planning to buy this year, the key to your success will be focus and patience along with a strong agent representing your best interest given today's low inventory. Competing against multiple offers is a difficult path to journey down.
You need someone fighting for you and guiding you every step of the way. Let's connect to discuss what's happening in Las Vegas, what homes are available, and why it's still worthwhile to prioritize your home search today.
LOOKING TO SELL?
For sellers, what a great time to sell! Inventory is low and motivated buyers are looking for houses for sale. Sellers don't have competition with as many property owners. Some would be sellers have decided to wait out the pandemic, but more and more buyers enter the market. This only further pushes the pricing point higher due to tight supply. Check your home's value here! or CONTACT ME HERE FOR MORE INFORMATION!
LOOKING TO BUY?
For buyers, the inventory is slowly increasing and mortgage rates are at historic all-time lows, record-breaking never seen before lows. Buyers are out in force taking full advantage of their higher than usual purchasing power. It is a win-win scenario for both sellers and buyers. CONTACT ME HERE to get started!