Everywhere you look nationwide home prices are increasing month over month. The end doesn't seem to be in sight with inventory shortages and a never-ending supply of would-be buyers. This leaves many wondering, is there a real estate bubble? Is Las Vegas Real Estate overpriced? Is it worth it to buy a home in Las Vegas? Are house prices going to stabilize? or are house prices going to go down in Las Vegas?
Homeownership has become a major element in achieving the American Dream. The American Dream of owning a home, where your family can grow and also owning the land to which it belongs. That is why so many are choosing Las Vegas. Las Vegas has long been known for its affordability among other things. Las Vegas is appealing for many other reasons and this hit a high note during the Pandemic. A recent report from the National Association of Realtors (NAR) finds that over 86% of buyers agree homeownership is still the American Dream.
Prior to the 1950s, less than half of the country owned their own home. However, after World War II, many returning veterans used the benefits afforded by the GI Bill to purchase a home. Since then, the percentage of homeowners throughout the country has increased to the current rate of 65.5%. That strong desire for homeownership has kept home values appreciating ever since. The graph below tracks home price appreciation since the end of World War II: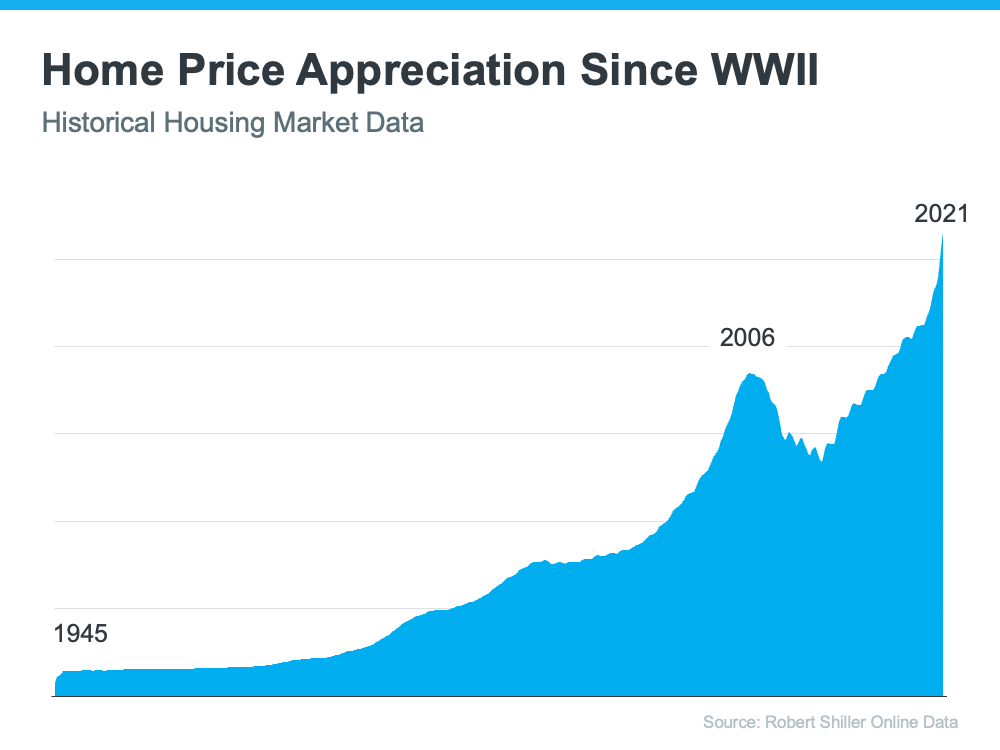 The graph shows the only time home values dropped significantly was during the housing boom and bust of 2006-2008. If you look at how prices spiked prior to 2006, it looks a bit like the current spike in prices over the past two years. That has led some people to be concerned we're about to see a similar fall in home values as we did when the bubble burst in the past. To help alleviate some of those worries, let's look at what happened last time and what's happening today.
What Caused the Housing Crash 15 Years Ago?
Back in 2006, foreclosures flooded the market. That drove down home values dramatically. The two main reasons for the flood of foreclosures were:
Many purchasers were not truly qualified for the mortgage they obtained, which led to more homes turning into foreclosures.
A number of homeowners cashed in the equity on their homes. When prices dropped, they found themselves in an underwater situation (where the home was worth less than the mortgage on the house). Many of these homeowners walked away from their homes, leading to more foreclosures. This lowered neighboring home values even more.
Builders over built homes, assuming they would keep selling. This led to a huge inventory increase in vacant homes in Las Vegas.
This cycle continued for years. In October of 2012, Las Vegas and the surrounding areas had nearly 28K active listings, with a median sales price of $125K, and took an average of 60 days on the market. In October of 2021 Las Vegas and the surrounding areas had 6,800 active listings with an average of 11 days on the market.
As you can see the overwhelming supply of homes in 2012 and length of time on market shows the market was a heavy Buyers Market. Plenty of homes in inventory, a major surplus and not as much buyer interest in properties. However in 2021, you see a significantly lower inventory and very short time on the market. Buyers are scooping up properties as soon as they hit the market. This shows a very small supply of homes available and a huge buyer demand for properties. Almost all homes have multiple offers bidding properties up.
Why Today's Real Estate Market Is Different
Here are two reasons today's market is nothing like the one we experienced 15 years ago.
1. Today, Demand for Homeownership Is Real (Not Artificially Generated)
Running up to 2006, banks were creating artificial demand by lowering lending standards and making it easy for just about anyone to qualify for a home loan or refinance their current home. Today, purchasers and those refinancing a home face much higher standards from mortgage companies.
Data from the Urban Institute shows the amount of risk banks were willing to take on then as compared to now.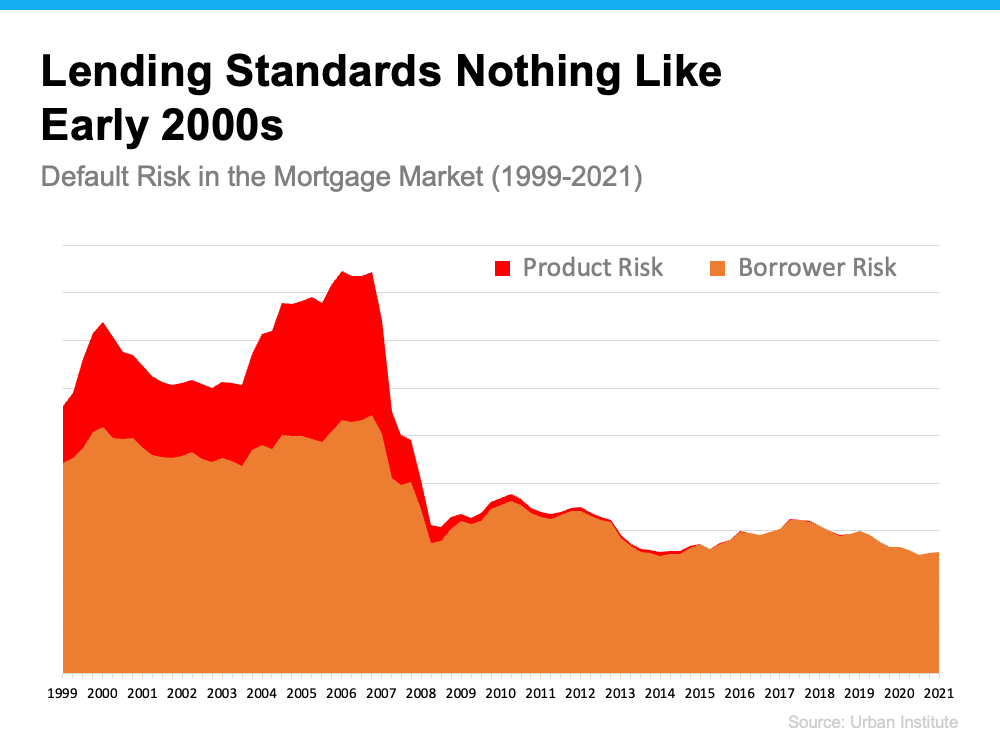 There's always risk when a bank loans money. However, leading up to the housing crash 15 years ago, lending institutions took on much greater risks in both the person and the mortgage product offered. That led to mass defaults, foreclosures, and falling prices.
Today, the demand for homeownership is real. It's generated by a re-evaluation of the importance of home due to a worldwide pandemic. Additionally, lending standards are much stricter in the current lending environment. Purchasers can afford the mortgage they're taking on, so there's little concern about possible defaults.
And if you're worried about the number of people still in forbearance, you should know there's no risk of that causing an upheaval in the housing market today. There won't be a flood of foreclosures.
2. People Are Not Using Their Homes as ATMs Like They Did in the Early 2000s
As mentioned above, when prices were rapidly escalating in the early 2000s, many thought it would never end. They started to borrow against the equity in their homes to finance new cars, boats, and vacations. When prices started to fall, many of these homeowners were underwater, leading some to abandon their homes. This increased the number of foreclosures.
Homeowners didn't forget the lessons of the crash as prices skyrocketed over the last few years. Black Knight reports that tappable equity (the amount of equity available for homeowners to access before hitting a maximum 80% loan-to-value ratio, or LTV) has more than doubled compared to 2006 ($4.6 trillion to $9.9 trillion).
The latest Homeowner Equity Insights report from CoreLogic reveals that the average homeowner gained $55,300 in home equity over the past year alone. Odeta Kushi, Deputy Chief Economist at First American, reports:
"Homeowners in Q4 2021 had an average of $307,000 in equity - a historic high."

ATTOM Data Services also reveals that 41.9% of all mortgaged homes have at least 50% equity. These homeowners will not face an underwater situation even if prices dip slightly. Today, homeowners are much more cautious.
3. Builders learned their lessons and primarily built homes as the lot is purchased, not in advance to meet market future needs.
One of the major reasons the inventory shortages are being faced nationwide is because building halted for many years so that the market could absorb the existing inventory. The demand was not there for new housing. If you look at housing starting from 2006 through around 2011-12 you can see the significant dip and flat line that occurred. This was a historic all-time low since the housing starts have been tracked before 1968. According to the Wall Street Journal's article, it is projected by NAR to take at least a decade to level out inventory.
source:
tradingeconomics.com
Las Vegas Real Estate a Housing Bubble?
Everyone is quick to jump and say this time is not like last time, or that won't happen again. We have all seen the sky rocketing prices, insatiable demand from Buyers moving from California and high tax states looking for a reprieve. It feels like last time, so why isn't it like last time in Las Vegas?
Las Vegas is in a historic Luxury Boom due in part to being in its infancy of becoming a sports mecca. Since the work from home model seems to be permanent for many companies, the appeal of Las Vegas is not lost. We've seen many from Simi Valley, Calabasas, San Diego and other luxury areas. The large scale businesses moving here to Nevada and the sports that are following are leading the way in the luxury market.
We are in a huge deficit of homes, with a high buyer demand. These buyers are coming from out of state with cash in hand and driving up prices. It's not only this, but we have many people wanting to own short term rentals (airbnbs), or even long term rentals for income in this town. The rental market in Las Vegas is also red hot. Many first time buyers who can't qualify are now competing against renters with less qualifications. There is a huge demand in rentals and many of the rentals are looking for 700 FICO Score, make 4 times income to rent, and have 6 months of reserves on hand, all things many renters simply do not have.
There is a true struggle for housing in Las Vegas from the top of the luxury market all the way to the rental market. It encompasses every tier across the board. The demand cannot be met fast enough, and the wave of foreclosures we once thought may be coming to market are easily avoided by equity in the home or forbearance programs.
The Bottom Line
The major reason for the housing crash 15 years ago was a tsunami of foreclosures from risky lending products. In today's lending environment we have a much stricter mortgage standard and a historic level of homeowner equity, the fear of massive foreclosures impacting today's market for the same reasons is not realistic. While we are in unprecedented times of high rising prices, its as simple as supply and demand. We also have quantitative easing and monetary policy and rising interest rates, and black swan events; to try to account for. However, real estate is truly as simple as supply and demand, we simply do not have the supply to meet the demand. Las Vegas is not currently overpriced in this snapshot in time because the demand exceeds the available inventory.
LOOKING TO SELL?
For sellers, what a great time to sell! Inventory is low and motivated buyers are looking for houses for sale. Sellers don't have competition with as many property owners. Some would be sellers have decided to wait out the pandemic, but more and more buyers enter the market. This only further pushes the pricing point higher due to tight supply. Check your home's value here! or CONTACT ME HERE FOR MORE INFORMATION!
LOOKING TO BUY?
For buyers, the inventory is slowly increasing and mortgage rates are at historic all-time lows, record-breaking never seen before lows. Buyers are out in force taking full advantage of their higher than usual purchasing power. It is a win-win scenario for both sellers and buyers. CONTACT ME HERE to get started!