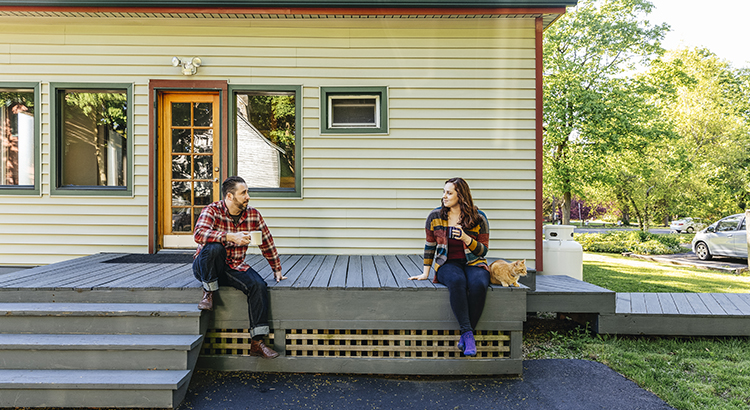 While you may have seen recent stories about the volume of foreclosures recently, context is important. Nationwide one in every 4,580 housing units had a foreclosure filing in April 2022.
States with the highest foreclosure rates were Illinois (One in every 2,241 housing units with a foreclosure filing); New Jersey (one in every 2,292 housing units); Ohio (one in every 2,585 housing units) Indiana (one in every 2,660 housing units; and here locally Nevada (one in every 3,043 housing units).
There were a total of 30,674 US Properties with foreclosure filing - default notices, scheduled auctions or bank repossessions - down 8 percent from a month ago but up 160 percent from 1 year ago.
Yet lenders actually repossessed only 2,830 U.S. properties through completed foreclosures (REOs) in April 2022. Down 36 percent from last month but up 82% from last year. According to ATTOM's monthly foreclosure report.
Rick Sharga, executive vice president of market intelligence for ATTOM says, "The extreme difference between foreclosure starts and foreclosure completions in April might be the beginning of a trend. Record levels of homeowner equity should provide financially distressed homeowners the opportunity to sell their homes prior to a foreclosure auction, meaning we should continue to see fewer foreclosure completions. While it may take several months to determine if this is actually what's happening, it seems like a real possibility.."
During the pandemic, many homeowners were able to pause their mortgage payments using the forbearance program. Both nationally and locally in Las Vegas, the goal was to help homeowners financially during the uncertainty created by the health crisis.
When the forbearance program began, many experts were concerned it would result in a wave of foreclosures coming to the real estate market, the same as there was after the housing crash in 2008. Here's a look at why the number of foreclosures we're seeing today is nothing like the last time.
1. There Are Fewer Homeowners in Trouble
Today's data shows that most homeowners are exiting their forbearance plan either fully caught up on payments or with a plan from the bank that restructured their loan in a way that allowed them to start making payments again. The graph below depicts those findings from the Mortgage Bankers Association (MBA):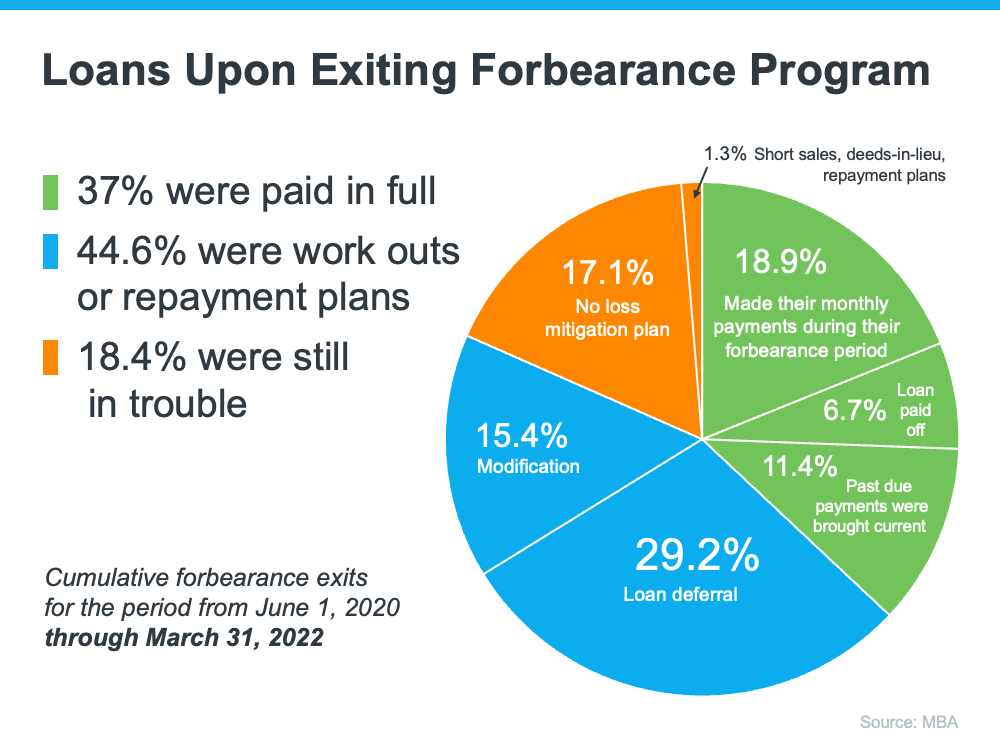 The same MBA report mentioned above estimates there are approximately 525,000 homeowners who remain in forbearance today. Thankfully, those people still have the chance to work out a suitable repayment plan with the servicing company that represents their lender.
2. Most Homeowners Have Enough Equity To Sell Their Homes
For those who are exiting the forbearance program without a plan in place, many will have enough equity to sell their homes instead of facing foreclosures. Due to rapidly rising home prices over the last two years, the average homeowner has gained record amounts of equity in their home.
Marina Walsh, CMB, Vice President of Industry Analysis at MBA, says:
"Given the nation's limited housing inventory and the variety of home retention and foreclosure alternatives on the table across various loan types, . . . Borrowers have more choices today to either stay in their homes or sell without resorting to a foreclosure."
3. There Have Been Fewer Foreclosures over the Last Two Years
One of the seldom-reported benefits of the forbearance program was it gave homeowners facing difficulties an extra two years to get their finances in order and work out a plan with their lender. That helped prevent the foreclosures that normally would have come to the market had the new forbearance program not been available.
Even as people leave the forbearance program, there are still fewer foreclosures happening today than before the pandemic. That means, while there are more foreclosures now compared to last year (when foreclosures were paused), the number is still well below what the housing market has seen in a more typical year, like 2017-2019 (see graph below):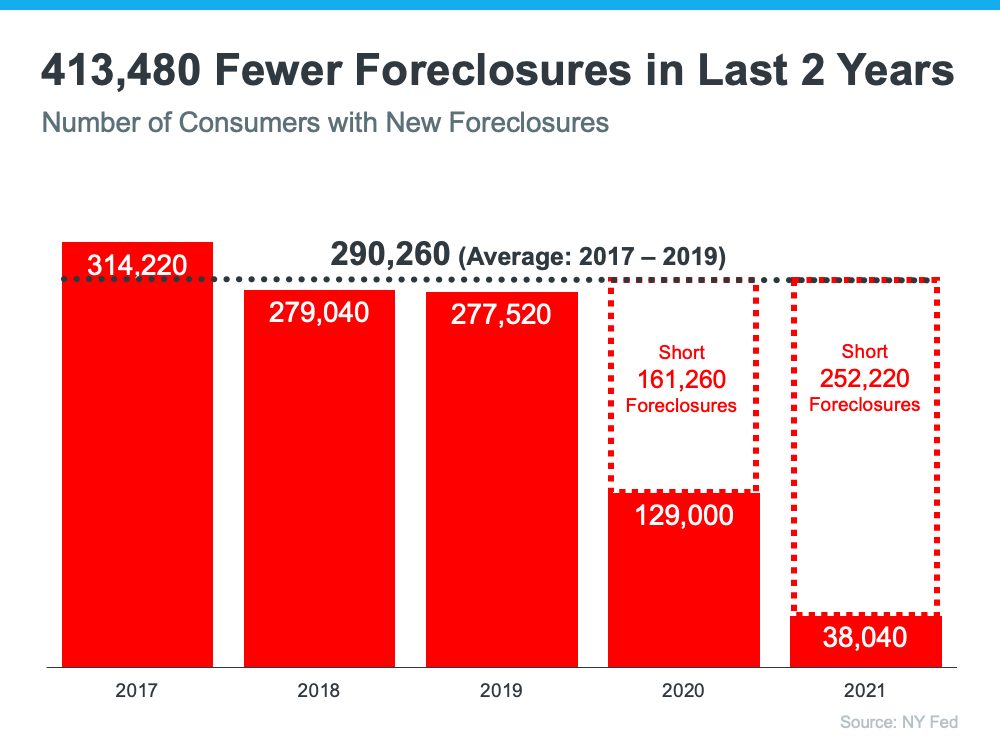 4. The Current Market Can Easily Absorb New Listings
When the foreclosures in 2008 hit the market, they added to the oversupply of houses that were already for sale. People were just walking away from homes. It's exactly the opposite today. People are fighting over homes today and there aren't enough of them to go around. The latest Existing Home Sales Report from the National Association of Realtors (NAR) reveals:
"Total housing inventory at the end of March totaled 950,000 units, up 11.8% from February and down 9.5% from one year ago (1.05 million). Unsold inventory sits at a 2.0-month supply at the present sales pace, up from 1.7 months in February and down from 2.1 months in March 2021."
A balanced market would have approximately a six-month supply of inventory. At 2.0 months, today's housing market is severely understocked. Even if one million homes enter the market, there still won't be enough inventory to meet the current demand.
If you're thinking about buying a home, you've probably heard mortgage rates are rising and have wondered what that means for you. Since mortgage rates have increased over two percentage points this year, it's natural to think about how this will impact your homeownership plans.
Today, buyers are reacting in one of two ways: they're either making the decision to buy now before rates climb higher or they're waiting it out in hopes rates will fall. Let's look at some context that can help you understand why so many buyers are jumping off the fence and into action rather than waiting to buy.
A Look Back: How the Current Mortgage Rate Compares to Historical Data
One factor that could help you make your decision to buy now is how today's mortgage rates compare to historical data. While higher than the average 30-year fixed rate in recent years, the latest rates are still comparatively low when you look at the bigger picture of where rates have been since 1971 (see graph below):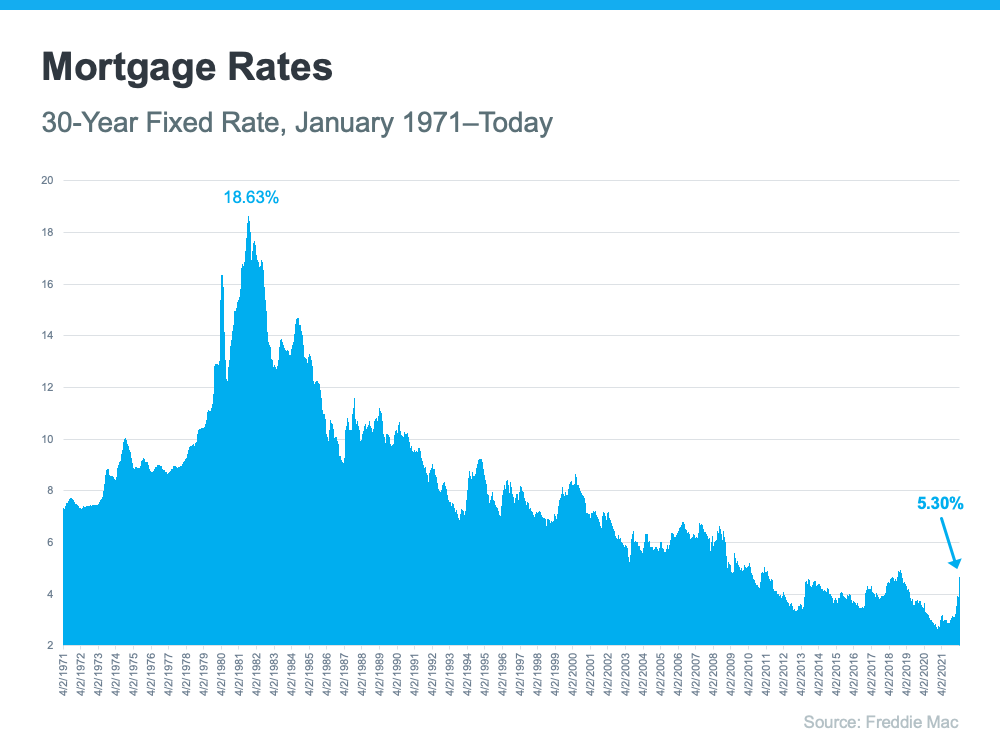 Mark Fleming, Chief Economist at First American, explains it like this:
". . . historical context is important. An average 30-year, fixed mortgage rate of 5.5 percent is still well below the historical average of nearly 8 percent."
If you're deciding whether to buy now or wait, this is important context to have. Today's mortgage rate still gives you a window of opportunity to lock in a rate that's comparatively lower than decades past.
A Look Ahead: What Happens if Rates Climb Further
The buyers who are springing into action now are also motivated to make their move because they know rates have risen steadily this year, and they're eager to get ahead of any further increases.
Why? When mortgage rates climb, they impact the monthly mortgage payment you'll have on the home you're buying. Basically, it'll likely cost you more to buy a home if you wait. Experts say mortgage rates will rise (although more moderately) in the months ahead. Odeta Kushi, Deputy Chief Economist at First American, explains:
". . . ongoing inflationary pressure remains likely to push mortgage rates even higher in the months to come."
So, if you're ready and financially able to buy now, it may make more sense to get off the fence and make your purchase sooner rather than later. As Nadia Evangelou, Senior Economist at the National Association of Realtors (NAR), says:
"With even higher interest rates on the horizon, I don't see any reason to hold off from purchasing a home right now. If you feel financially secure, you should start looking for a home."
At the end of the day, there is no perfect advice on when to buy a home. What you should do depends on your goals, your finances, and your personal situation. Use this information with the help of local real estate professionals to make an informed decision on what's best for you. The Mortgage Reports sums it up best:
". . . if you're on the fence about whether to buy now or wait for a better deal, buying sooner rather than later might be wise. That said, home buying is always a personal decision. Whether you should buy in 2022 depends on your financial situation and the local housing market where you live.
Bottom Line
If you see headlines about the increasing number of foreclosures today, remember context is important. While it's true the number of foreclosures is higher now than it was last year, foreclosures are still well below pre-pandemic years and equity is up, so owners have a choice. If you want more information regarding Las Vegas foreclosures or if you have questions about the Las Vegas Real Estate Market, let's connect to talk through the latest market conditions and what they mean for you.
LOOKING TO SELL?
For sellers, what a great time to sell! Inventory is low and motivated buyers are looking for houses for sale. Sellers don't have competition with as many property owners. Some would be sellers have decided to wait out the pandemic, but more and more buyers enter the market. This only further pushes the pricing point higher due to tight supply. Check your home's value here! or CONTACT ME HERE FOR MORE INFORMATION!
LOOKING TO BUY?
For buyers, the inventory is slowly increasing and mortgage rates are at historic all-time lows, record-breaking never seen before lows. Buyers are out in force taking full advantage of their higher than usual purchasing power. It is a win-win scenario for both sellers and buyers. CONTACT ME HERE to get started!